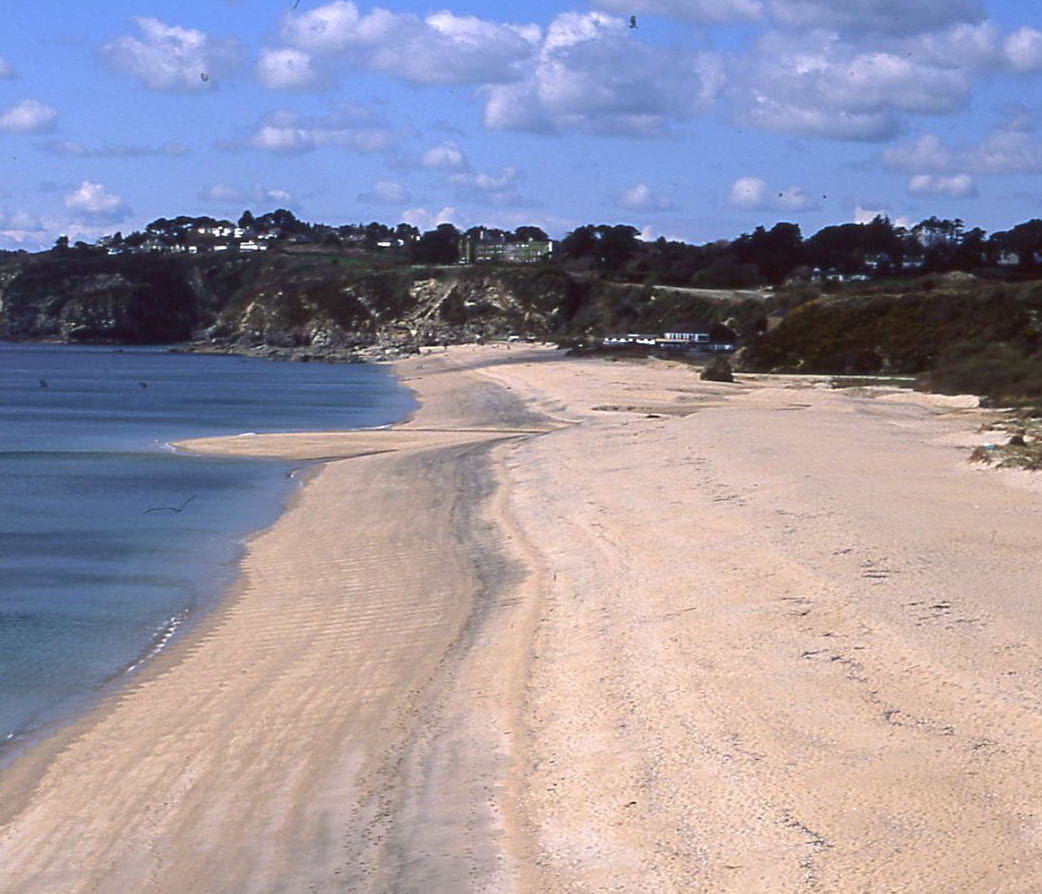 Crinnis, Shorthorn and Polgaver beaches before clearing work began
and barriers erected


























Carlyon Bay Watch was formed by a group of local residents to preserve for the use of local people and visitors alike three beaches at Carlyon Bay, near St Austell on the south coast of Cornwall, which are earmarked for a huge development of over 500 multi-storey dwellings - a 'village' the size of Mevagissey.


We believe that the idea of building even holiday homes, much less permanent residential units, at sea level on a beach is madness at a time of growing awareness of climate change and predictions of steadily rising sea levels. The beaches at Carlyon Bay have only one access road in and out and are backed by sheer cliffs. They are also regularly pounded by storms and are subject to flooding - indeed storm warning and evacuation procedures are anticipated by the developer to be essential for the proposals. The plans fly in the face of national and international policy on coastal development and expert opinion claims sea levels could rise even higher than so far predicted.

After 20 years of controversy and a public inquiry which turned down previous plans, Cornwall Council in June 2011 gave approval for an application in detail for sea defences and outline permission for the a "mixed use" development of up to 511 residential units as well as retail and leisure units on two of the beaches, Crinnis and Shorthorn. It also includes outline planning permission for leisure facilities at the third beach, Polgaver, which has never had any planning approval attached to it and which 80% of local people said they want left to nature. (More on the plans and CBW's formal objections).

Carlyon Bay Watch has always supported the redevelopment of the "brownfield" site on one beach, Crinnis, occupied by the Coliseum complex but building across a mile of the bay is completely out of character for Cornwall and ruins the coastline, which is what brings people here in the first place.

Local Cornwall councillor, John Oxenham, supported that view in his campaign literature for the 2010 election campaign. "The developers need to think again. I believe we could all accept a much smaller development, but they are trying to grind down our patience by continually pushing for a huge development and then blaming the delays on others. If I'm elected, I will tell them enough is enough. St Austell wants its beach back and the developers need to be realistic about what goes there".

But, unsurprisingly, it seems councillors fell for the months of propaganda put out by the developers, CEG, that this development will bring untold wealth and jobs to the area as well as clean up a derelict site - a state delilberately brought about by the developers who partially demolished the buildings on one of the beaches to let them rot and left piles of rubble to greet anyone who wanted to use the once beautiful local amenity.

Cornwall Councillors voted for the scheme, completely ignoring the opposition of Carlyon Parish Council which reflected the views of its voters - more than 80% of whom said in a parish survey they wanted no more building in the parish. It was voted through despite it being acknowledged by the developer and the Council's own planning officers that it was contrary to local and national planning policies. For this reason, it was referred to the Secretary of State for Local Government, Eric Pickles, but it seems he was already following the government's policy of approving development and ruled out a public inquiry.

Now (December 2012) the latest development is - nothing is happening, despite CEG having planning permission for 18 months. They say they can't proceed with drawing up detailed plans until an application for an extension to a Public Right of Way across the beach has been decided. Well that decision has finally been made (a Council panel voted in favour of extending the Right of Way on January 28th 2013) having been postponed from December. But it has been in the pipeline for 3 years - so why are they using that as an excuse for delaying the project? Could it be that the economic climate is a more likely cause for the slow-down - as has happened with the even more ambitious Eco-town project?


HISTORY

Carlyon Bay has been a popular resort since the early part of the 20th century. During the 1930s the complex on Crinnis beach, later known as Cornish Leisure World, was built as a spa with swimming pool, tea rooms and tennis courts - Edward and Mrs Simpson are reputed to have visited it. This part of Crinnis was the only previously developed area. Shorthorn and Polgaver were left to nature - above the tidal zone they were covered in a mixture of trees and bushes popular with walkers.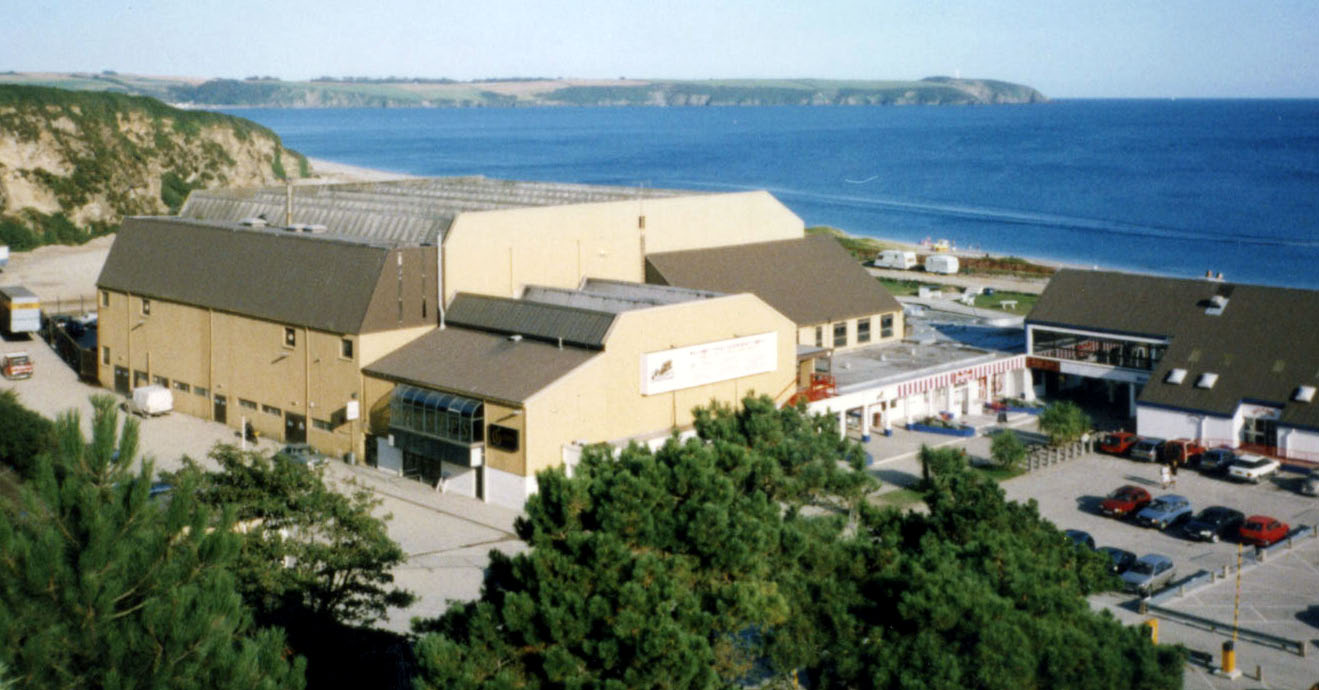 The Cornwall Coliseum with Gossips nightclub in the early 1990s.




During the 1970s and 1980s, the Cornwall Coliseum, with the addition of a Wimpey bar and nightclub, was a highly popular entertainment venue.

Planning permission was given in 1990 for holiday homes not only on Crinnis but on Shorthorn as well, together with a sea wall with rock armouring. The permission included refurbishing and extending the Coliseum complex.
It's that 21-year-old scheme, which featured buildings up to six storeys high down to the shoreline, which the developers claimed they could still build if the new application had failed (despite the Coliseum being beyond repair).

Then plans for a massive revised sea-defence scheme were rejected in 2007 by the government after a Public Inquiry and a long campaign spear-headed by Carlyon Bay Watch, together with objections from Cornwall County Council and the Environment Agency as well as other organisations. Again no attempt was made to build the permitted scheme but the developer turned its attention to drawing up a new one.

We now have the eyesore that is the wreckage of the old Coliseum building, partially demolished by the developer, with piles of rubble along the beaches and, until recently, with an unauthorised and ugly line of rusting steel shuttering - erected without planning permission in 2004 as part of the rejected sea defence scheme. The developer was ordered to remove the shuttering by the then local authority, Restormel Borough Council, but was given until December 2010 to do so. That order was ignored and they applied for permission to retain the shuttering pending the outcome of the new planning application for the whole site. Then (May 2011), it seems, after repeated "nagging" from CBW and negotiations with Cornwall Council, work started on removing the pilings. Now they are gone - except for an area surrounding the information centre for which CEG has now put in for retrospective planning permission!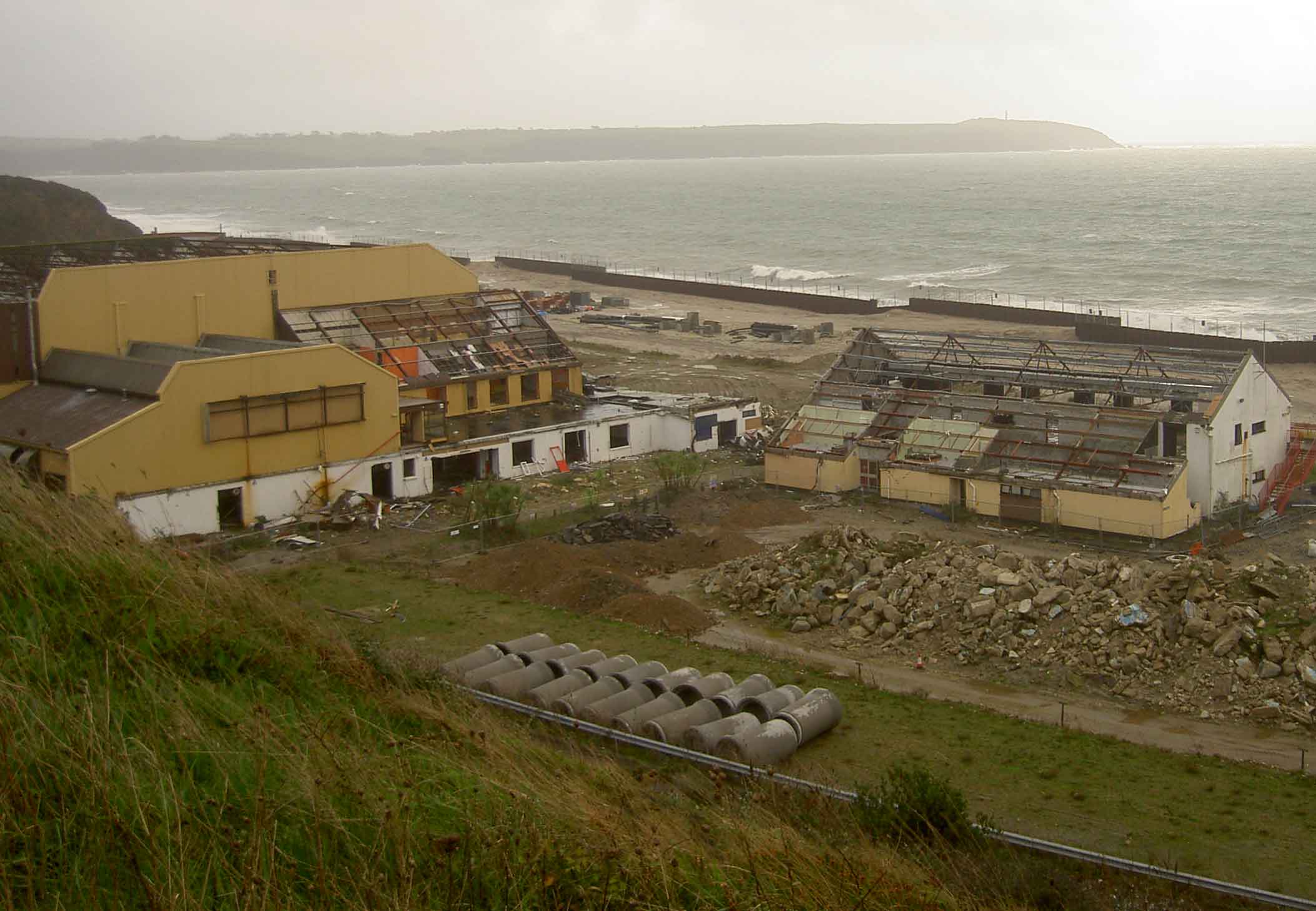 After the Coliseum closed its roof was removed, ancillary buildings
were partially demolished and a line of shuttering erected in the tidal zone


PUBLIC ACCESS

For decades local people and visitors have enjoyed the Carlyon Bay beaches in all seasons. Those who didn't want to swim and sunbathe used the extensive wooded areas criss-crossed by footpaths for walking, bird spotting and dog walking.

In future they will be faced with buildings up to the height of the cliffs which would remove much of the beaches as we know them. In a bay flanked by Areas of Outstanding Natural Beauty, views of the shoreline and coastline will be obliterated. Developments in a coastal zone should be protected as one of Cornwall's greatest assets. The wooded area on Shorthorn has been bulldozed - at a time when green spaces are under ever increasing threat from development, this has removed a significant part of Carlyon Bay's natural open space.

The developer claims public access will continue - CBW says this would be permissive access and therefore could be denied at any time.

In fact within a few weeks of planning permission being granted, our views were borne out by a rash of new signs near the existing public right of way from Beach Road down the access road and across the Coliseum site. This right of way had been finally been re-opened in February 2010, six years after the route was blocked with fences and barriers. (More detail on this Public Right of Way).It has been used by the public for decades and was officially recognised as a public right of way after a long campaign by local footpath campaigners. The new signs made the route look as though it is only to be used with the developer's permission and acted as a psychological deterrent to the public - who in fact have every right to walk down that route without anyone's permission.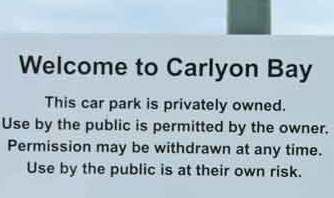 New sign which shows what the public can expect from now on - but there is a right of way - please use it


After complaints from members of the public, Carlyon Parish Council and Cornwall Councillor John Oxenham intervened and CEG moved the notices off the public right of way. But barriers are still placed across all but 1 metre of the path for 12 hours from 7pm - contravening the order in 2008 by Cornwall County Council establishing the right of way as 4 to 5 metres wide - an order later confirmed by the Secretary of State. To date Cornwall Council has done nothing to put this right - in fact council officers came to a verbal agreement with CEG allowing it to continue contravening their own council's order (this interesting deal came to light following inquiries by Carlyon Parish Council and local footpath campaigners using the Freedom of Information Act). Some members of the public say they feel intimidated by the gates and by the constant presence of security guards. Some individuals have reported being followed and their movements closely monitored by the guards.

A public footpath at the other end of the beaches - to Fishing Point on the eastern end of Polgaver has also been officially recognised but it is not clear yet how these two public rights of way will be affected by the eventual development. (More on Public Access)

INFRASTRUCTURE

Not only open spaces are under threat, but public services and infrastructure are increasingly under pressure in the St Austell area from other huge development schemes - including a 1,700 home proposal by Wainhomes and the massive "Ecotown" plans for 5,000 homes - 600 of which would be at a new marina development at Par Harbour less than a mile from Carlyon Bay.

The Carlyon Bay development will generate a massive increase in traffic movements along the two residential roads through which all vehicles going to and from the beaches would have to travel - one of which passes a school and a church. The other is privately owned and passes under a Grade Two listed railway arch which can only take one vehicle at a time. (More on the Brunel rail arch)

This development is unique. It is proposed to put thousands of people on a site which should never be considered for housing in the light of climate change and rising sea levels. It conflicts with government and international policy on coastal management and with other national policies. It should never be allowed to be built.



(Find Carlyon Bay on Google Maps)