WELCOME TO OUR WEBSITE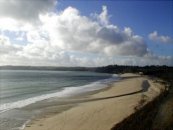 Carlyon Bay before it was wrecked
by the developers

Carlyon Bay Watch was formed when plans were announced for a massive development on one of the best beaches on the south coast of Cornwall.

More than 500 dwellings plus shops, a hotel and a massive sea wall are to be built at Carlyon Bay.

We exist to raise awareness of the destruction of St Austell's once family-friendly beach, to highlight the threat to public access and to campaign for any development to be safe, in scale and sympathetic to the coastal landscape of south Cornwall.

(Our Photo gallery charts the story of the beaches and the destruction)

The development is now on hold and this bay has been blighted by the destruction the developers have brought to this beach once enjoyed by generations of locals and tourists.

Rubble and debris are strewn across areas once covered in trees and shrubs where families used to walk and picnic.

Visitors are faced with partly-demolished buildings, ugly steel barriers as well as huge boulders and the remaining section of rusting metal shuttering imported as part of 'temporary' sea defences.





SEA WALL VICTORY!
COUNCIL BACKS PUBLIC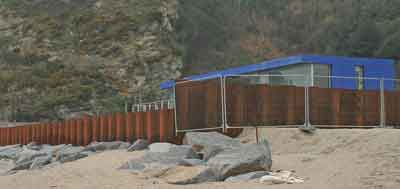 Welcome to Carlyon Bay and the remaining 'temporary' sea defences
A remaining section of metal shuttering and rock armour, erected in 2004 without planning permission, must come down - say Cornwall councillors.

At last the Council has decided that "enough is enough" and has listened to the many, many people who care about Carlyon Bay and are extremely angry and sad at the mess the developers have made of it.

Developers CEG were ordered to remove the shuttering by the end of 2012, but had applied to retain it for another three years until March 2016.

But after complaints made through the Carlyon Parish Council, letters to the local press, a protest march to the beach and the Clean Up Carlyon Bay petition, Planning Committee councillors refused the application - even though the planning officers said it should be approved.

We now wait to see what CEG's response will be as they have the right to appeal against this decision.

But we are calling on them to listen to the hundreds of people who've signed our petition and to our elected councillors:

REMOVE THIS EYESORE FROM OUR BEACH.

(More on our Latest News page).




THE BATTLE FOR ACCESS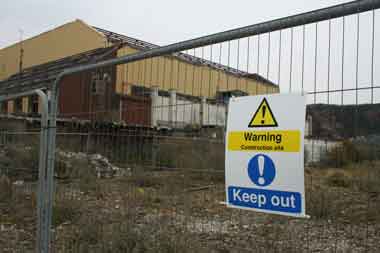 It's hard to believe a Public Right of Way runs past the old Cornwall Coliseum





The developers have once again shown their contempt for local opinion by challenging the existence of a Public Right of Way giving public access to the beach.

If there is no right in law for the public to walk down to the beach then it will only be with the developers' permission - which they can withdraw at any time for any reason.

For all their claims to welcome the public, they have fought every step of the way against moves to guarantee it.

Residents and visitors have enjoyed public access for decades but the developers' actions will probably mean the issue will go to a public inquiry.

More details on our Public Access page